The MyReward program provides support to those interested in Galderma's treatments at our clinic.
Ask us for further details today.
Galderma MyReward – Program Overview
 Promotion period – June 1st through to Dec. 31st, 2020.
 15% rebate on Dysport and/or Restylane, Restylane .SKINBOOSTERS treatment (can be a combination of treatments).
Rebate paid as prepaid VISA credit card (digital card or hard copy).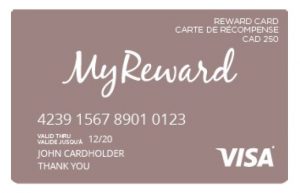 Min. spend/ treatment = $200 (before taxes).
 Min. rebate = $30.
 Max. rebate = $225 ($1500 treatment spend before tax).
 Limit of 1 (one) rebate per voucher during the promotion period.
 Multiple rebates/patient permitted within the promotion period (new voucher required each time.
Each voucher has an exclusive rebate code and can not be used more than once.
Patient needs the following to submit for a MyReward rebate:
Voucher with unique code.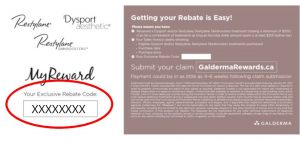 Receipt for their treatment which clearly indicates Dysport and/or Restylane.
Go to website www.galdermarewards.ca and follow instructions to receive their VISA prepaid credit card.
Patients can expect to receive their Prepaid VISA rebate within 1 week.
Note: all relevant information is on the coupon. There is no need for the patient to follow up with the clinic, they can track their rebate on www.GaldermaRewards.ca
For questions or concerns: 1(866)505-3259 or at galdermarewards@360insights.com
FULL TERMS & CONDITIONS FOR THIS PROGRAM
see www.GaldermaRewards.ca